Welcome to the RWCA
Hello and welcome to the website of the Ridings Wing Chun Kung Fu Academy. With classes in Leeds and York we hope you'll have the opportunity to come and train with us and learn more about the deadly, efficient and useful art of Wing Chun Kung Fu.
Looking for class times and prices? Click here.
---
Latest News
UPDATE on the Wednesday class
I have not had any success finding a suitable location to re-open the wednesday class, previously held in Knaresbro. I was hoping to find somewhere not too far from the last class, so exsisting students could keep training, but to no avail! I am therefore now looking for a completely new location. I will be looking for somewhere with reasonable access for students from other classes to come along and get some extra training as well as a good base for new students. If anyone has any suggestions as to a new location i would be more than happy to hear about it. May i take this opportunity to thank all those students who did make it to the Knaresbro class for your continued support right to the end. As a result of the closure this now gives me an evening free to offer private tuition if anyone wishes.
Posted 6th April 2011
---
Sad news.
Unfortunately i have the sad news that one of our fellow students has been killed in a motorcycle accident at the weekend. John Nield, who most of you will know from the York class, was riding his Triumph motorbike on Sunday 25th July near his home in pocklington, when he was in collision with a car and suffered fatal injuries. Our heartfelt condolences go to his family at this very sad time.
Posted 27th July 2010
---
Summer Holidays
Please note there will be NO YORK class at Guppys, Nunnery Lane, on TUES 3rd AUG and TUES 10th AUG all other classes are open as usual. If you are grading in August and York is your usual class then please try to attend one of the other classes. Let me know if you need a lift and i'll see what i can do. And hopefully you will be attending the training camp this weekend. I am also available for private tuition Mon - Sat. Except, of course, this weekend!
Posted 26th July 2010
---
Training Day Nostell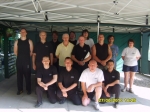 The training day at Nostell was, as ever, fantastic. Thank you to those of you who attended, despite it being the England 'v' Germany match!! and for those of you who didnt come and stayed in to watch the match, it serves you right! I could have told you the result before they started! We on the other hand continued training and for those who were interested, Mark put the radio on so they could listen and train. It was a warm day so we took it nice and steady and got plenty of theory work in there too. Thanks to everyone at the Holiday Park for making us most welcome , as always.
Posted 1st July 2010
---
Happy New Year 2010 !!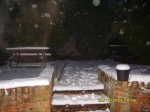 Happy New Year to you all! The festive season was as ever, chaos! but nevertheless a fantastic time. I did manage to get together with a few of you and have a seasonal tipple or two. But enough of the relaxation it's back to the grind-stone now. With the new year comes new training, and as we have a number of students possibly attempting their Black sash this year it promises to be a very interesting one too. You will probably see them at your class at some point, they'll be the one looking really serious! Ha Ha. Please feel free to ask them as many questions as possible and work their brains. Seriously though, do ask them questions. If they're not sure of the correct way to answer, then better they check with me now than 15 mins into their grade! I'm sure you will all join me in wishing them the very best of luck, and.... work hard people. I will be popping into all the classes over the next few weeks so i can make sure you are on target with your training and that your Sifu has all the relevant up to date paperwork etc to keep you going. The new 2010 Diary Dates are now available from your Sifu, so please make sure you get one. This has all the years events listed, so if you need to book time off work or if you are planning holidays etc.. then hopefully this will enable you to make sure they dont clash. The training camp was as ever very popular last year, so if you want to come book it early, as i may have to limit the number of tents due to limited space. This is a photo of what the training area looks like when you lot arn't there! I did Siu Lim Tau in the snow, it was very relaxing! What were you doing on Xmas eve eh? Ha Ha. I'd like to focus on forms and related stance in the first few weeks so, if you have any questions for me write them down so you dont forget, and we will cover them at your next lesson. If you havn't yet joined us and this is your first time on our site then welcome, have a look at what we are about and please feel free to call into any of the classes and have a chat with the instructor there. We take new students all year round, but what better time to start than the start of a new year? Dont sit around on the fence, take the first steps to changing your life now! with a truly fantastic art, great events and friendly people. But dont take my word for it...come along and see for yourself. Sifu Tony.
Posted 3rd January 2010
---