Welcome to the RWCA
Hello and welcome to the website of the Ridings Wing Chun Kung Fu Academy. With classes in Leeds and York we hope you'll have the opportunity to come and train with us and learn more about the deadly, efficient and useful art of Wing Chun Kung Fu.
Looking for class times and prices? Click here.
---
Latest News
COVID 19 - CLASSES
During the Covid 19 virus outbreak All classes in York are closed until further notice. Up to press Leeds Class is running as usual. The hall is very large and we will being training Non contact. If you are well and would like to train that's fine. If you are of a compromised immune system or have a long term illness please do not come - stay at home and stay safe. Private lessons are still available in Leeds should anyone want one. If anything changes I will let you know. Updates can also be found on our Facebook page Ridings Wing Chun Academy - Leeds Class and ridingswingchun and our Instagram @ridingswingchun Stay safe and well people.
Posted 18th March 2020
---
HAPPY NEW YEAR ! ! 2020
2020 CLASSES START ON MONDAY 6th JANUARY 7.30PM in LEEDS and TUESDAY 7th in YORK 7pm
Why not come along and start your New Year training. Everyone welcome age 16+
Beginners very welcome.
If you have any questions before you come please feel free to ask. Have a look at the dedicated facebook page: Ridings Wing Chun Academy - Leeds Class
Posted 28th December 2019
---
NO YORK CLASSES
Please note there will be no classes on Tues 6th or Thurs 8th Aug in York due to holidays. Leeds class on Monday is open as normal.
Posted 2nd August 2019
---
STAITHES TRIP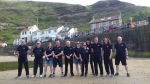 What a fantastic trip this year to the beautiful Staithes. It is a stunning place to train. Had great fun. Thanks to everyone that came and shared it with me. Same place next year!! Check out the photo's in our Gallery.
Posted 19th July 2019
---
A Sad Loss to the Academy.
It is with great sadness that I have to inform the Academy of the recent passing of our fellow student Iain Farrar. He passed away on Monday 24th June after a short illness. Our deepest condolences and sympathy go to his wife Catherine and their two sons. Iain was a lovely guy and a diligent student reaching the advance level of Brown 1. He will be sorely missed.
Posted 27th June 2019
---