Welcome to the RWCA
Hello and welcome to the website of the Ridings Wing Chun Kung Fu Academy. With classes in Leeds and York we hope you'll have the opportunity to come and train with us and learn more about the deadly, efficient and useful art of Wing Chun Kung Fu.
Looking for class times and prices? Click here.
---
Latest News
Training Day Nostell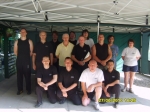 The training day at Nostell was, as ever, fantastic. Thank you to those of you who attended, despite it being the England 'v' Germany match!! and for those of you who didnt come and stayed in to watch the match, it serves you right! I could have told you the result before they started! We on the other hand continued training and for those who were interested, Mark put the radio on so they could listen and train. It was a warm day so we took it nice and steady and got plenty of theory work in there too. Thanks to everyone at the Holiday Park for making us most welcome , as always.
Posted 1st July 2010
---
Happy New Year 2010 !!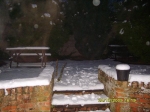 Happy New Year to you all! The festive season was as ever, chaos! but nevertheless a fantastic time. I did manage to get together with a few of you and have a seasonal tipple or two. But enough of the relaxation it's back to the grind-stone now. With the new year comes new training, and as we have a number of students possibly attempting their Black sash this year it promises to be a very interesting one too. You will probably see them at your class at some point, they'll be the one looking really serious! Ha Ha. Please feel free to ask them as many questions as possible and work their brains. Seriously though, do ask them questions. If they're not sure of the correct way to answer, then better they check with me now than 15 mins into their grade! I'm sure you will all join me in wishing them the very best of luck, and.... work hard people. I will be popping into all the classes over the next few weeks so i can make sure you are on target with your training and that your Sifu has all the relevant up to date paperwork etc to keep you going. The new 2010 Diary Dates are now available from your Sifu, so please make sure you get one. This has all the years events listed, so if you need to book time off work or if you are planning holidays etc.. then hopefully this will enable you to make sure they dont clash. The training camp was as ever very popular last year, so if you want to come book it early, as i may have to limit the number of tents due to limited space. This is a photo of what the training area looks like when you lot arn't there! I did Siu Lim Tau in the snow, it was very relaxing! What were you doing on Xmas eve eh? Ha Ha. I'd like to focus on forms and related stance in the first few weeks so, if you have any questions for me write them down so you dont forget, and we will cover them at your next lesson. If you havn't yet joined us and this is your first time on our site then welcome, have a look at what we are about and please feel free to call into any of the classes and have a chat with the instructor there. We take new students all year round, but what better time to start than the start of a new year? Dont sit around on the fence, take the first steps to changing your life now! with a truly fantastic art, great events and friendly people. But dont take my word for it...come along and see for yourself. Sifu Tony.
Posted 3rd January 2010
---
Christmas Party and Student of the Year Awards.
Our annual Christmas bash was fantastic. There was a HUGE number of students, partners and friends who came along this year. We always hold our Christmas party early in December so that it dosn't clash with work do's etc... We also present our Student of the Year Awards. These are in recognition of the hard work and effort students have put into their training and help training others etc... This years awards were as follows....... 1st place...Mark Alston 2nd place...James Xieilleon 3rd place...Andy Gillah Highly Commended...Mike Downes, Pat Boyes, Iain Farrar and Commended...Peter Wilkinson, Leon Hannath, Robert Cooper, Scott Taylor, Colin Baxter, Bill McQueen, and Ian Gough. Photo's in the gallery.
Posted 9th December 2009
---
training day York.
The last training day of the year was very well attended. A lot of indepth training went on, so much so that i cant beleive how fast the day went! I can tell from the feedback from many students that this was the case for them too. It was enjoyed by all who attended. This training day is held in October and is the second of two that we do during the year. More photo's in the gallery.
Posted 20th October 2009
---
Training Camp 2009
Our annual training camp was, as always a great success. Even though this year, for the first time, the weather was wet and windy. This didnt dampen the training spirit though and the sun actually came out for the b.b.q so it wasnt all bad. Thanks to all who braved the weather with me. The annual training camp is held every summer over 3 days (fri - sun) at a small campsite in North Yorks. Most students come for the whole camp and pitch a tent, but some just come up for a day or two and travel home again at the end of the day. It really is an enjoyable weekend, where students from all the classes get together for some formal and informal training, followed by a relaxing b.b.q and a drink and a chat in the village pub! Have a look at the gallery for this years photo's.
Posted 10th August 2009
---