Welcome to the RWCA
Hello and welcome to the website of the Ridings Wing Chun Kung Fu Academy. With classes in Leeds, York, Haxby and Doncaster we hope you'll have the opportunity to come and train with us and learn more about the deadly, efficient and useful art of Wing Chun Kung Fu.
Looking for class times and prices? Click here.
---
Latest News
EASTER CLASSES
Please note there is no class at Haxby on Monday 17th or Guppys on Tues 18th April

LEEDS CLASS WILL BE OPEN AS USUAL 7.30 - 9PM

Posted 4th April 2017
---
*** SOUTHLANDS - THURSDAY return date ***
Please note the Thursday class at Southlands Methodist Church does not return until 12th January
Posted 4th January 2017
---
HAPPY NEW YEAR ! ! ! !
Wishing you all a healthy, happy and prosperous 2017.

Looking forward to getting back to training. If we didn't see you much last year - Welcome back and if you're new to us just come along to one of our classes and join us.

It also gives me great pleasure to announce our newest Sifu to the Academy Sifu Mark Alston Congratulations - very well deserved. So when you see him, give him a well earned pat on the back, carefully of course ;-)
Posted 1st January 2017
---
CLASSES 2016 -17
Here are the details of classes over the Festive period:

LEEDS: Mon 19th Dec 16 return Monday 2nd January 2017

HAXBY: Mon 19th Dec 16 return Monday 9th January 2017

YORK: Tues 20th Dec 16 return Tuesday 3rd January 2017

DONCASTER: Thurs 15th Dec return Thursday 5th January 2017

SOUTHLANDS: Thurs 15th Dec return Thursday 12th January 2017

Private lessons are still available throughout December just give me a ring or text on 0798 2232350

Wishing you all a Merry Christmas and remember to keep training those mince pies off !!


Posted 14th December 2016
---
SUMMER 2016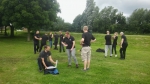 Looks like Summer has finally arrived, hopefully, and we have lots of events to keep everyone happy. Our special training event to mark the Academys Birthday was fantastic. We had very little rain, lots of impromptu training, beside the canal. Great! Have a look at the photos in our Gallery. Glad everyone enjoyed it as much as I did. If you are new to our site, please feel free to browse our information pages. If you have any questions please dont hesitate to ask and you are more than welcome to just come along to any of our classes, anytime.

Posted 4th July 2016
---